Fordham Preparatory School Admissions Profile for Parents
Situated on Fordham University's Rose Hill campus in the Bronx, Fordham Preparatory School is one of NYC's most prestigious college-preparatory schools for boys. Fordham Prep is a private institution, with a Roman Catholic religious affiliation (Jesuit). The school serves students in grades 9 through 12.
In June of 1841, on the Feast of St. John the Baptist, the Bishop of New York founded both Fordham Prep and University. These schools constituted St. John's College. The opening summer session consisted of only six students, with president Reverend John McCloskey at the helm (a religious leader who would one day go on to become the first American-born cardinal).
Fordham Prep remained a division of Fordham University until 1970, at which point the school obtained its own educational charter from the New York State Board of Regents. This charter enabled the former to separate legally from the latter. Subsequently, Fordham Prep began construction on its current building, Shea Hall, which opened in 1972. In 1991, Maloney Hall was added, which houses the Hall of Honor, a second gymnasium, and the Leonard Theatre.
Fordham Prep Quick Facts
| | |
| --- | --- |
| Percentage of students accepted to college | 99% |
| Yearly tuition | $22,960 (2022) |
| Number of clubs and organizations | 60+ |
| Number of sports and athletic teams | 41 teams in 18 sports |
| Student to teacher ratio | 12:1 |
| Average Class Size | 23 |
| Approximate grade size | 239 |
| Religious foundation | Roman Catholic, Jesuit |
| Student body | All Boys |
| Fordham Prep High School Admissions Exam | TACHS, ISEE, SSAT, or HSPT |
| Scholarship Exam | HSPT shared with Regis, Xavier, St. Peter's, or Loyola |
| Website | https://www.fordhamprep.org/ |
| Test Dates, Open House Dates, Information Session Dates | https://www.fordhamprep.org/admissions/how-to-apply |
Commitment to Faith and Scholarship:The Fordham Prep Philosophy
Established in 1841, Fordham Preparatory School is the third oldest Jesuit secondary school in the country. According to historians, the first Jesuit school opened its doors to the public in 1548 in Messina, Sicily. At present, the number of Jesuit educational institutions worldwide exceeds 2,000.
Fordham Prep belongs to a network of 62 Jesuit high schools operating throughout the nation, including Regis High School, Xavier High School, St. Peter's Prep, and Loyola.  Its fundamental objective is to educate young men of faith, scholarship, and service. Two ideals govern the Jesuit approach to education: cura personalis and magis. The former concerns itself with the care of the individual, assisting each student in recognizing and developing their potential. The latter refers to "the more," which tasks each member of the community with doing more for Christ, and, therefore, for others. Both faculty and students at Fordham prep adhere to the motto of the Society of Jesus, "ad majorem dei gloriam," which translates to "for the greater glory of God."
Who is a Fordham Prep Student
A quintessential Fordham Prep student is, among other things, devout in faith, compassionate in his treatment of others, conscientious in his academic pursuits, and amenable to growth and change. Faculty strive to equip students with the tools necessary to succeed not only in college, but in the larger world that awaits them.
One advantage of a Fordham Prep education is its proximity to Fordham University. The relationship between the two schools is such that students are encouraged to take courses at the university (i.e., qualified seniors). Upon receiving approval from a librarian or faculty member, students also have access to Walsh Library.
Fordham Prep Academics
College Preparation Program
Understanding that each student possesses a unique set of strengths, Fordham Prep offers an Individualized Honors Program. Courses range from regular to AP. If they so choose, freshmen have the opportunity to take up to five honors classes. Fordham Prep Placement Exam scores, 8th grade courses and grades, and Regents Exam scores (if applicable) will all help to inform such decisions. The Fordham Prep Placement Exam is an iteration of the high school placement exam, and it is administered after Registration Day in March. https://www.fordhamprep.org/admissions/course-placement
College Matriculation
99% of graduating students each year go on to further their education at a four-year college or university.
Each year, alumni are accepted to top-notch colleges and universities throughout the United States. These include Harvard, Columbia, Duke, and University of Pennsylvania. On average, more than 30% of graduating seniors opt to further their education at a Jesuit college or university.
Fordham Prep Matriculation List: https://www.fordhamprep.org/page.cfm?p=4790
Fordham Prep Student Life
Extracurriculars
Fordham Prep offers a plethora of co-curricular activities, all of which are run by faculty and students.
Currently, there are 68 clubs and activities from which to choose. Ambassadors Club, Art Club, Astronomy Club, and Financial Literacy Club are just some examples of what interests Fordham's diverse student body. https://www.fordhamprep.org/student-life/co-curriculars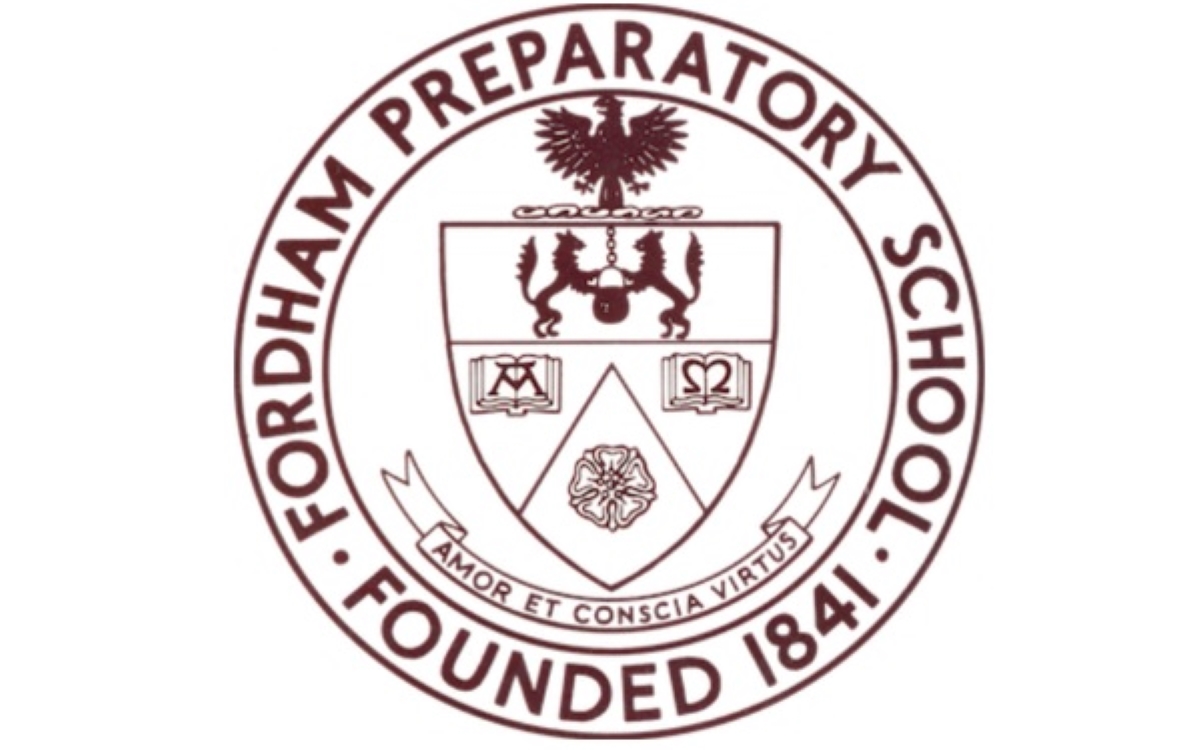 Fordham Prep Famous Alumni
A great many notable individuals have attended Fordham Prep. Some examples of famous alumni are Andrew Velazquez, infielder for the Los Angeles Angels (2012),  Cameron Young, professional golfer (2015), and Joseph Bastianich, winemaker, restauranteur, and judge on MasterChef (1985).
Fordham Prep Scholarship Offerings and Financial Information
Fordham Prep grants a select number of merit-based scholarships to incoming freshmen. To maximize one's chances, applicants should have exceptional grades (a minimum average of 90 in all core subjects in the 7th and 8th grade) and a high score on the High School Placement Test (the HSPT is the exclusive exam for the Merit Scholarship Program; those who do not take it will be disqualified from scholarship consideration).
Fordham also considers applicants who have taken the Regis High School Scholarship Exam. Regis will send test results directly to admissions. Participation in the "Ram for a Day Shadow Day Program," though not required, is also regarded favorably by the admissions committee.
Last year, Fordham Prep supplied over 4 million dollars in tuition assistance to families (46% of families). During the COVID-19 pandemic, Fordham provided further aid to more than 150 families impacted by the crisis. Students interested in financial aid must be sure to fill out a separate application. Financial aid can be used in conjunction with merit-based scholarships.
Financial Aid FAQs: https://www.fordhamprep.org/admissions/affording-fordham-prep
Merit Scholarships: https://www.fordhamprep.org/admissions/merit-scholarships
Fordham Prep Admissions Process
Applicants should complete and submit all application materials before the December 2nd deadline. They must also send all supplemental application materials, including applicant records, letters of recommendation, and letters of explanation, to admissions@fordhamprep.org.
Important Dates and Deadlines: 
The TACHS registration deadline is in mid-October. Students in the Archdiocese of New York and those in the Diocese of Brooklyn and Queens will sit at the beginning of November.
For the HSPT, registration closes the first week of October.
Fordham Prep will release its admissions and scholarship decisions for the upcoming academic year in mid-January.
Fordham Prep requires that students interested in full- and partial-tuition merit scholarships interview with a faculty or staff member. Students should anticipate questions that gauge leadership abilities, academic strengths, extracurricular engagement, and intellectual interests. Interviews occur between the months of September and December.
Signup for Your Student's Practice Interview Here
Taking the TACHS, HSPT, ISEE, or SSAT as Entrance Exam for Fordham Prep
Fordham accepts students from all over the NYC area. Similarly to Xavier High School, Fordham will accept scores for almost any entrance exam for admission. This makes preparation easier if applying to many schools.
The best way to prepare for the TACHS, HSPT, ISEE, or SSAT exams is through practice tests and practicing types of problems in which thr student has the most trouble. We offer practice tests year round. Our first test for high school entrance between November and May. This is identical every month and only necessary to be taken once. From May to October, we differentiate to focus on each student's specific schools so take TACHS, HSPT, SHSAT, ISEE, and SSAT practice exams between March and October each year. The practice exams make sure that students do not face any surprises on test day.
Comparison of the TACHS with other high school entrance exams: HSPT and SHSAT
ISEE compared with HSPT SSAT Compared with HSPT
You can schedule a practice test or see our schedule of practice tests for the year here. The earlier you start, the more prepared your child will be as all learning is cumulative and built upon previous skills and knowledge that they have mastered. Additionally, grades in 7th grade are very important for the admissions process of all schools. Once your student takes a practice test, we will give suggestions on how to improve. We will also suggest potential group (of similar students with similar goals) or individual tutoring. I work with students throughout their middle school careers to strengthen their academic skills.
My students have earned over $12.8 million in scholarships to NYC's top private high schools:
Full Breakdown of Scholarships 2022
Signup for Your Student's First High School Admissions Practice Exam or TACHS Here
Taking the HSPT as the Fordham Prep Scholarship Exam
Fordham determines scholarships based on grades, leadership activity, understanding the Jesuit tradition, and their unique scholarship exam, which is the HSPT. Preparing for the HSPT requires preparation in vocabulary (especially root words), logic, analogies, reading comprehension, math, and grammar. Very little time is given per question so speed is of the essence.
Most students do very poorly the first time they take an HSPT so practice exams and prep are highly recommended to do well on an HSPT, no matter how bright the student is.
The preparation for the HSPT overlaps with section of the TACHS, ISEE, and SSAT. HSPT prep is also identical for prep for many schools like Regis, Xavier, Loyola School NYC, St. Peter's Prep, and many others. It will also help make the TACHS or other entrance exam feel easy comparatively.
Signup for Your Student's Practice Fordham Prep Scholarship Exam (HSPT) Here
Prep for the Fordham Prep Admissions Process
Anyone who is looking to get into Fordham Prep or to get their child into Fordam Prep will want to get started early. The school is very competitive, and doing well in your classes and potentially on any exams you choose to take to supplement your grades is crucial to being accepted. Not only that, but the school requires excellence in middle school, reflected on student transcripts and grade reports, to be considered for admission.
High-level accomplishments in middle school will be a big part of getting into Fordham Preparatory School. Advanced tutoring, and especially sessions with small groups or even individually, will help students who are looking to get into Fordham Prep to get the help they need to give them a leg up. All provided material throughout the tutoring process is cumulative, so the earlier your student starts, the better off they will be when it comes time to apply.
As someone who scored in the 99th percentile on these exams and earned full scholarships to all high schools I applied, I know the preparation and commitment it takes to succeed in getting into a private high school. My tutoring team offers group and private tutoring sessions to boost your student's academic performance and self-confidence for the rigorous private high school admissions season.
Prep Overlaps with Other Private High Schools
Other private Jesuit high schools you may also consider are Regis High School, Xavier High School, Loyola, and St. Peter's Prep. These are all boys high schools except Loyola, which is co-ed. Many schools share identical preparation and have identical tests; these particular schools even share results, which is rare. Many other high schools use an identical test (HSPT) for scholarship and/or admissions but do not share results. The nuances of their admissions processes vary, but we can answer any questions you have about these. More information on other high schools and exams in NYC
Individual and Group Tutoring Sessions
My students have earned admission to some of the most prestigious schools in the country, including Regis, arguably the most prestigious high school in the country. I work with students to improve their academics to make sure they achieve success in their exams and beyond, even when they already excel.
My students have also earned large scholarships to high-level schools, earning over $12.8 million in financial assistance through merit-based scholarships with 42 students passing the rigorous Regis exam to earn an interview. In addition, students I tutored have earned hundreds of thousands of dollars in scholarships to Fordham Prep, with countless others earning admissions to Fordham Preparatory School.
John Zaborskis tutored students to help them earn over $263,000 in scholarships to Fordham Preparatory High School in the past few years.
In 2022, John's students earned a combined total of over $3.8 million in scholarships to high school. Most students take a practice test before their first lesson to identify areas of improvement and potentially group similar students with similar goals. We also use this to compare to future practice tests to determine what is working and what isn't. Call, text, or email us to discuss the best options for your student, including individual one-on-one tutoring or in a group.
Online group sessions have rolling starts year-round. You can view availability for groups and tutoring at Book Me.
Contact me for more info or to start tutoring lessons